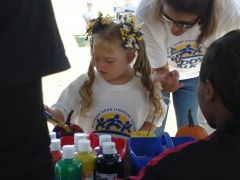 You do not have to register each person in your party by name. Simply choose how many walkers you are registering by category and you will be given further options on the following page (e.g. shirt sizes).
Individuals with Down syndrome are our celebrated guests of honor, lunch is included and there will be an option to choose a shirt size, free of charge.
General Admission: $10 -includes lunch and t-shirt
Ages 3 & Under: Free -includes lunch (if you want a shirt for a small child, please register them as General Admission, however we are now out of youth 2/4)
Thank you for registering. We can't wait to celebrate with you!
Note to team captains: Please put in your desired team name as you register.  Your team page will be created for you after you register (please give us 24 hours to add your team).  Remember to include the name of your Buddy if you are registering a Buddy.
If you would like for your team page to be customized with a photo and a note to your donors, please email this info to buddywalk@cvdsa.org.
Note to registrants:  If you are registering to walk and don't see your buddy's team yet, it's okay!  Just put their last name as the team name and we will put you with their team when they register.  Thanks!
Online registration will close 10/2 at 11:30pm, but you may register on site at the Walk Saturday morning.  Thank you!